This year past, Manhattan Art was largely dominated by two themes. There was a seemingly continual string of shows by many of the bigger names in Abstract Expressionism (i.e. AbEx), one after the other, and I wrote about every one of them, beginning with Jackson Pollock @MoMA, Lee Krasner, Philip Guston (two- here and here), Richard Pousette-Dart, Joan Mitchell and Mark Rothko, along with a few excellent satellite compilation shows, each in a different venue, which, apparently is continuing into 2017 with Jackson Pollock set to open at the Guggenheim, completing the circle, for now. It was also a year of Women Artists getting important shows. Patti Smith, Nasreen Mohamedi, Diane Arbus, Cindy Sherman, Marilyn Minter1, June Leaf, Carmen Herrera, Nan Goldin, Mary Bauermeister, Carrie Mae Weems, Latoya Ruby Frazier, Krasner and Mitchell were only some of the highlights. Still? Artists weren't the only women making a big impact on the NYC Art Scene in 2016. In fact, for my money, the biggest impact of all was made by another woman, The Met's Chairwoman of Modern & Contemporary (M&C) Art, Sheena Wagstaff.
As far as I'm concerned, no other single person had the impact on NYC Art, all year long, that Ms. Wagstaff and her department did.
Sheena Wagstaff was named Chairwoman of TM's M&C Department on January 20, 2012. Four years later, her 2016 began with putting finishing touches on TM's new "branch Museum," The Met Breuer (TMB), the first "branch" The Met has opened since The Cloisters in 1926! No pressure there. As it was about to open, ostensibly as the showcase for The Met's "new" M&C Art iniatative, The Times' Roberta Smith put the situation perfectly into perspective, speaking about the task Ms. Wagstaff faced/faces-
"But the Met is huge and old, with a history of treating contemporary art as an afterthought. Getting it to change is like turning around an ocean liner." Roberta Smith, NYT, March 3, 2016.
It sailed into it's mid- March opening with 2 shows- "Unifnished: Thoughts Left Visible," a veritable Museum in itself covering 2 full floors (the third and fourth), and, easy to overlook, tucked away on the second floor, "Nasreen Mohamedi," the first American Retrospective of the Indian woman artist who passed away in 1990, aged 53. Wait…Who? Yeah. Me, too.
After over 15 visits later, to my eyes, "Nasreen Mohamedi" was nothing less than 1) an epiphany. Here was an Artist who was a Major figure in Art in the 20th Century who's name exists in not one Art History survey that I know of.
2) Therefore, it was easily one of the best shows of the year, and 3) the more I think about it, for many reasons, it was one of the best shows I've seen in years.
I spent an hour sitting right next to Sheena Wagstaff at a "Nasreen Mohamedi Symposium," at The Met 5th Avenue in June. After it was over, I had the chance to speak to her. All I could say to her was "Thank you," for Nasreen Mohamedi, which gave me the chance to discover her. Then, I told her she had made "the perfect choice" to begin M&C Art at TMB.
Six month later, I stand by those words.
Think about how much guts it took to make that call. How daring it was. TMB famously costs The Met 15 million dollars a year to operate. The Met, reportedly, ran a deficiet in 2016, costing jobs.  To say "a lot" was, and is, riding on the success of TMB would be an understatement. Not to mention TM's world leading prestige. "Nasreen Mohamedi" was followed by "diane arbus: in the beginning." Perhaps it would have been "safer" to have run Diane Arbus first. Maybe. Probably. I'm glad it was Sheena Wagstaff's call (along with the rest of TM's powers that be), and they chose Nasreen Mohamedi.
The show was, apparently, a labor of love for Ms. Wagstaff. Hidden away in the very last gallery, in an iPad on the tables where visitors could peruse the now out of print and rare catalog, were some of the few extant photos from Ms. Mohamedi's life. One of the last photos was a photo of Nasreen Mohamedi's unmarked grave. I marvelled that someone had found it and photographed it. I looked for the credit to see who the photographer was. Sheena Wagstaff.
"Nasreen Mohamedi" was more than a terrific show. It was a statement. What was as easy to miss as the show itself was, as visitors made a bee line to see the copious treasures upstairs, it was more. It was the "answer" to the question about where Ms. Wagstaff was likely to steer The Met's "new M&C initiative" going forward. As such, it was a shot over the bow of the future.
The future of M&C Art at The Met, and The Met Breuer, appears to be international, and inclusive. I expect more of the unexpected, more of the unknown and under-known. Bring it on. MoMA is running on all cylinders, putting on shows that are spectacular. It's good for them, the Whitney, The Guggenhim, et al, to have some competition in M&C Art from The Met, and for us.
While "Nasreen Mohamedi" was blowing my mind on the 2nd floor, upstairs on 3 & 4, "Unfinished" was blowing everyone's who saw it. Right off the elevator on 3, you make a right and in a small gallery you're confronted by Leonardo da Vinci AND Michelangelo (all too rarely seen together in this hemisphere), AND Jan Van Eyck, and a few other works I can't even remember because my mind was already overloaded. Oh yeah, some guy named Durer did one. This was TM "showing off," as I read Ms. Wagstaff say in an interview. Boy, did they. The rest of the show had a roster that would make 90% of all other whole Museums in the USA jealous.
So? Ok. This was a "fail safe" show. Ms. Wagstaff was by no means finished.
After Nasreen closed, "diane arbus: in the beginning" came in on 2, with an installation unique in art & photography shows in my experience. Every piece got it's own wall. Yup. You read that right. Over 100 pieces. Over 100 walls. Amazing. No beginning. No ending. The point being that it was all her beginning.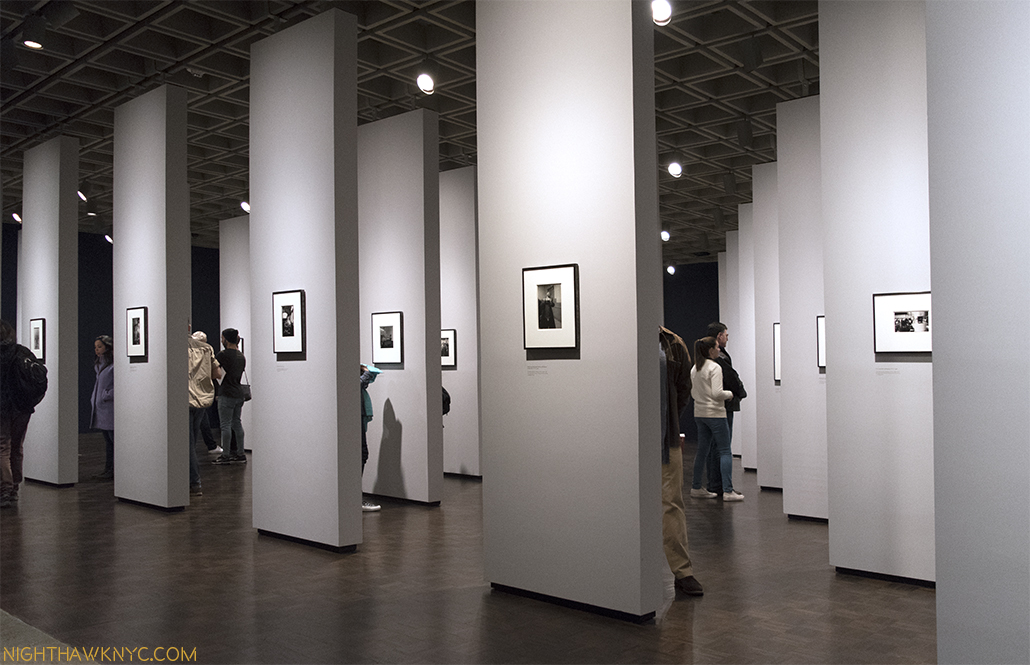 After "Unfinished," the year at TMB ended with another blockbuster success- "Kerry James Marshall: Mastry." This is the kind of show that makes you wonder WHY it took so long for Mr. Marshall to be so recognized. He's been creating at a very high level for a long time. It was only 3 years ago that he was showing at the always excellent Jack Shainman Gallery in Chelsea. But? Not everyone was sleeping on KJM. Walking through this show it's a sad feeling for a New Yorker to read the tags and see great work after great work that belongs to Chicago or Los Angeles. Not even MoMA has stepped up to a large degree with Kerry James Marshall. TM FINALLY got a major work of his last year.
Now? It's probably too late.
This, unfortunately, highlights one area where much work remains to be done. The Met's collection is sorely lacking the work of M&C Masters. As I recently pointed out, as far as I know, they own no work by Ai Weiwei. no work by Nasreen Mohamedi, and only one work (albeit a very, very good one) by Kerry James Marshall (and this was only acquired in 2015), to name but 3 cases. Frankly? I find this shameful. TM recently elected three new trustees, two of which are M&C specialists, so hope springs eternal for a little more wind to be added to those sails.
New York had until January 29 to enjoy seeing a lot of KJM in one place. (My piece is coming soon.) Now? It's going to be a long wait. Los Angeles? You get your chance beginning March 12.
So? By my scorecard, that's 4 shows in 9 months that will be remembered and talked about for a very long time, including no less than TWO that were major breakthroughs for the Artists- Nasreen Mohamedi and Kerry James Marshall2, putting both in the pantheon of the Artists who belong in our greatest Museums.
But? Ms. Wagstaff, who struck me as having so much energy, downtown NYC could have used her during the Hurricane Sandy Blackout, still wasn't finished. Over at 1000 Fifth Avenue…(remember The Met's Main Building?), she and her staff have also rehung TM's M&C Galleries there, and done an amazing job.
Works have come out of storage that haven't been seen there in…?, and some, thankfully, have gone there in their stead. The arrangements are new, too. Themes take the place of chronological arrangements in many rooms, while the AbEx Galleries still remain largely together, but subtly ammended. We get to see, what I consider to be, a major work by Philip Guston that I never knew TM owned! Other works are given new prominence, notably Edward Hopper's famous "The Lighthouse at Two Lights," and Richard Pousette- Dart's "Symphony No. 1- The Transcendental," (photo, here, further down the page.)
The result is a veritable breath, no, wind of fresh air throughout. More wind for the sails of that S.S. Met Roberta Smith wrote about.
Sheena Wagstaff had a great year, in my book. Here's to her. May the wind be at her back. That sound you heard in January was my giving a major sigh of relief at the news that we didn't lose her when the Tate Museums chose a new Director (Ms. Wagstaff was Chief Curator at Tate Modern before she joined The Met).
P H E W…
Elsewhere, in the big City…
Other Museums and Galleries, of course, put on shows that linger in the memory, and I would be remiss in not including them. In addition to Nasreen Mohamedi's, another Retrospective tried to make the case for it's Artist's place in the canon on 20th Century Art History, and wildly succeeded, in my opinion- "Bruce Conner: It's All True" @ MoMA  Though he spent some time early in his career in NYC3, he, and his work, were rarely seen here after, and as a result, seeing this broad & in-depth look at his accomplishment over a mind-bending number of mediums was nothing less than a bombshell in it's impact on myself, and I suspect many other New Yorkers. The depth, the staggering detail in the work (most famously in his films, but we see here it was carried over in most of his other work in other genres.), the mediums he probably invented, (like the music video), techniques he created or mastered, and on and on. This show was a capstone on a great year for shows at MoMA. "Picasso Sculpture," "Edgar Degas: A Strange New Beauty," were must see/won't soon forget in their own right. Bravo, MoMA. Now? About that building and the new one on the way…
In the galleries, what lingers with me were Ai Weiwei's return to NYC at long last with 4 concurrent shows, "Mark Rothko: Dark Passage," "Patti Smith: 18 Stations," "Philip Guston: Laughter in the Dark," "Stuart Davis: In Full Swing," at the Whitney, and "William Eggleston: The Democratic Forest" (mostly for the chance to study his work at length, which only made me want to look again). And, I always enjoy the chance to be captivated by someone I previously didn't know, like the amazing Sydney Cash at Heller Gallery, or the up and coming Robert Currie at Bryce Walkowitz- both of who share a fascinating ability to make you see things that aren't really there.
And finally, personally, the chance to meet Patti Smith and Sheena Wagstaff, or run into Chuck Close, were things that remain rich, as much for the opportunity to speak with them as for what I learned from each encounter.
All of these experiences reminds me that in the final analysis? Art is personal. For every one of us.
*-Soundtrack for this Post is "Andy Warhol" by David Bowie (who we lost this year, and who is Ms. Wagstaff's fellow countryman, and an Art collector), from his classic album "Hunky Dory."
Please send comments, thoughts, feedback or propositions to denizen at nighthawknyc.com.
Click the white box on the upper right, for the archives, to search, or to subscribe.
This Post was created by Kenn Sava for www.nighthawknyc.com
in 3 shows- 2 in Manhattan, 1 at the Brooklyn Museum, as part of their "Reimagining Feminism" Series ↩
It must be noted that "KJM: Mastry" is a show organized by The Museum of Contemporary Art, L.A. the Museum of Contemporary Art, Chicago, and The Met. ↩
when legend has it he was denied entrance to MoMA for the opening of a show that included one of his works. ↩