Things are reaching a fever pitch in the Galleries as the year end approaches, with nary a Black Friday Gallery sale in sight, allowing me to sleep in this year. Still, there was plenty to see and be Thankful for, along with the usual smattering of turkeys, but let's get right to dessert, shall we? As in October, here's my list, in no particular order, of what I found NoteWorthy in November. Once again, each one of these deserves a longer, in depth piece that I'm not going to have time to do, but I would be remiss in not mentioning them at all. November, also, marked the end of the world as we know it, so…
"Faberge from the Matilda Geddings Gray Foundation Collection" @ The Met- Will the artist in modern history who is a greater craftsman than Carl Faberge please stand up and make yourself known to me? Thank you. While I'm waiting on that, this is the first show of the work of Faberge in New York since 2004. As small as one of the details on his timeless (and priceless) masterpieces, this show in a hallway at The Met is easy to miss (countless thousands do just that as they wait in line for the elevator to the roof, right in front of this very show). Ms Gray began collecting Faberge in 1933, when prices for his work were cheaper than they will ever be again. Money aside, Faberge combines the equally rare gifts of ingenuity, vision, craftsmanship and delight in works that are a century old but have lost none of their grace, beauty or charm. Scheduled to end on November 27, this show has been extended until 2021, giving you plenty of time to see it.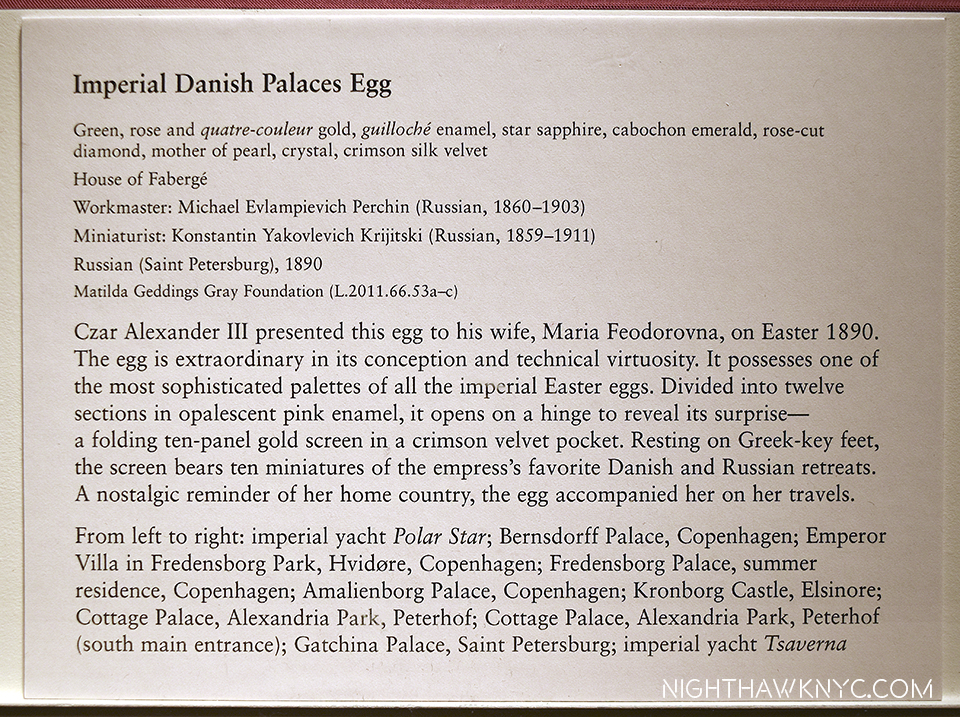 "Joan Mitchell: Drawing Into Painting" @ Cheim Reade- Yet another good sized show of an Abstract Expressionist, "second generation" this time, and the most renowned female (Lee Krasner may be gaining on her) AbEx painter, right down the street from the blockbuster "Mark Rothko: Dark Passage" Show, it makes the perfect before or after bookend to it. I owned a Joan Mitchell print until a few years ago, so I lived with the energy and lyricism her work is known for. Looking around, her work is in most major museums, though it's been 12 years since an American museum gave her a show. So, it's been left to Cheim & Read to fill the gaps, and they've mounted Joan Mitchell shows every two years, or so, going back to the late 1990's. This one does make for fascinating pairing with the Rothko show- they couldn't be more different, while sharing what the scholars call Abstract Expressionism, I've heard some of the Artists, including Philip Guston, say they prefer the term "New York School."
"Man Ray: Continued and Noticed" @ Francis Naumann- It's been too long between Man Ray shows. Readers already know my fondness for Man Ray. Francis Naumann Gallery opened 15 years ago with a Man Ray show, so they revisited him for this anniversary show and they did it in style. Man Ray was so prolific, and so prolifically diverse he can be hard to "sum up" in a gallery show, but this one was an out and out winner, a must see, especially for anyone who thinks of Ray as "only" a ground breaking photographer. While featuring a wonderful selection of his photos, portraits and "Ray-o-grams," it also included his drawing, painting, sculpture, writing, and even no less than 2 Ray designed chess sets.
"Philip Guston: Laughter in the Dark, Drawings from 1971  & 1975" @ Hauser & Wirth- There was no more auspiciously timed show than this one which not only brings us the 73 drawings Philip Guston selected for his "Poor Richard" series but 100 additional drawings that didn't make the cut and 3 wonderful paintings that are related or have relevance to them. Opening exactly 4 months after Hauser's last Guston show, it would be very very hard to find work more different than those in seen in "Philip Guston Painter, 1957-67," which I wrote about here, perhaps the "darkest" of his career, in many ways. Though the show's title refers to the presence of "laughter" here, make no mistake it is more than tinged with darkness, especially because viewing them now, we know how things turned out for Nixon. These were dark times for the country, and many of these drawings were Guston's "at the moment" reaction to unfolding events. Even before Watergate, the Nixon Presidency was not without a sizable opposition, for more reasons than the seemingly endless war in Vietnam. Everything about Nixon rubbed many people the wrong way, and provided a brilliant Artist ample fodder for "political satire" of the highest order. Most interestingly, for me, these are works in which Guston turns his focus outwards for, perhaps, the only time in his post 1940's career. "Poor Richard" was published in 2001 and is still in print. You can see it here.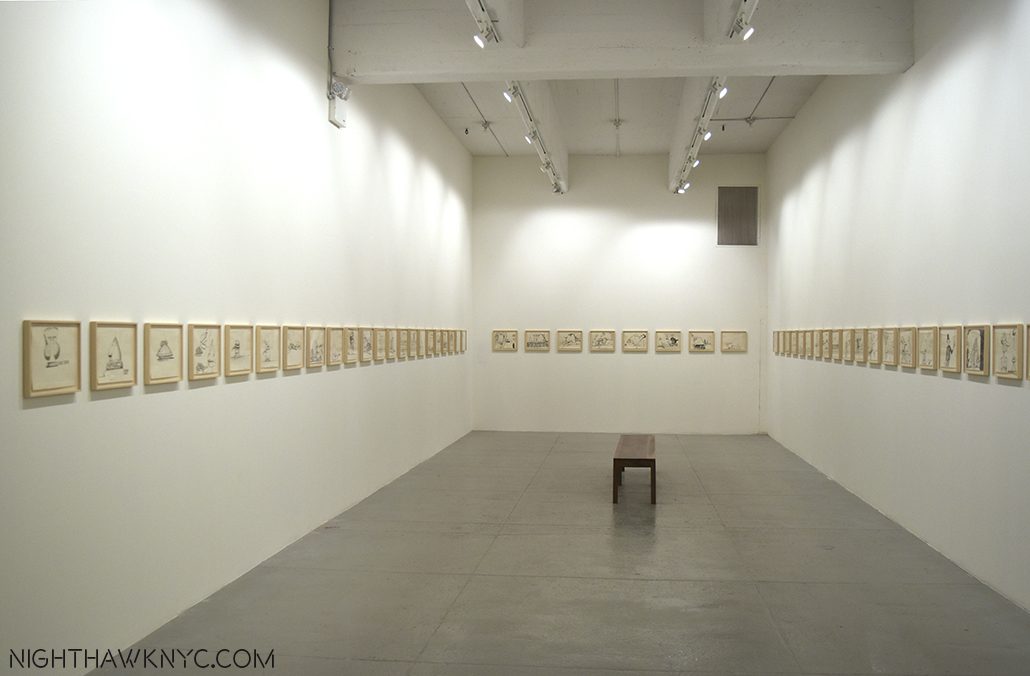 "Jeff Elrod: This Brutal World" @ Luhring Augustine- Chelsea & Brooklyn Galleries. It pains me not to write a longer piece on this. Jeff Elrod has been at the cusp of reinventing painting by combining digital drawing and computers with the end result of that stage outputted to canvas.where it may, or may not be combined with analog, old fashioned painting (at least those on display here). Dealing with blurriness from my recent eye treatment, my initial reaction was, "Hmmmm…If I close my right eye, my good eye, this is how the world looks to me these days." But, I was drawn back repeatedly, even compelled to make the (unheard of for me) trip to Brooklyn to see the Bushwick segment of this show. In both locations, the effect was the same- I couldn't get them out of my mind. They're like something you see when you're not really looking, or when you're not fully awake after dreaming, or about to fall asleep…My initial reaction was "This looks easy to do on a computer. Take a photo, blur the heck out of part of it in Photoshop. Add a layer of a frenzied drawing and output to canvas. Then, I remember people say the same thing about Pollock and Rothko, yet no one else has done them. Some works remind me of passages of Monet, some of Yves Tanguay. But not really. They weren't created like those were and so they don't look like anything else. Mr. Elrod's work commands some fancy prices. Ah well…They're much too big for my place, anyways. If there's a "cutting edge" in painting in 2016, Jeff Elrod's work is the closest I've seen to being on it. I'm very much looking forward to seeing where this is going.
After countless visits, I began to "see" "Jeff Elrods" everywhere I went. Like here-
Honorable Mention- "Brian Dettmer: Dodo Data Dada" @ P.P.O.W. Mr. Dettmer creates "Book Sculptures," something new to me. As far as I can tell, he takes a scalpel to a book, or books, and carves away all but what he wants to remain. I've never seen anything quite like it.
PostScript.- And meanwhile, over at Gagosian, Richard Serra's MASSIVE "Every Which Way," 2015, all 16 slabs of it was coming down, making way for the next show there…
*-Soundtrack for this Post is "It's The End Of The World (As We Know It)" by Michael Stipe, Mike Mills, Peter Buck and Bill Berry of R.E.M. and published by Warner/Chappell Music, Inc and Universal Music Publishing Group, from their 1987 album "Document."
Please send comments, thoughts, feedback or propositions to denizen at nighthawknyc.com.
Click the white box on the upper right, for the archives, to search, or to subscribe.
This Post was created by Kenn Sava for www.nighthawknyc.com