Robert Crumb, better known as "R." Crumb, the legendary creator of what is now called 'Underground Comics" in 1968, the precursor of todays' "graphic novels," is an Artist who's drawings I've long admired. His content, on the other hand, is, and will be likely to remain, "controversial." While some of Degass's work shocked when it was first seen, Crumb's work is still shocking and controversial 50 years later for not being "P.C.," especially his ideas on women, sexuality, and his own sexual preferences. While cartoon & comic artists have been unjustly looked down upon virtually since the advent of the medium, given it's origins in throwaway newspapers, magazines and comic books, there are, and have been, some who have risen above the genre to the extent that their work has approached the level of being "Fine Art."
But, crossing that line and entering the hallowed halls of our greatest Museums has not been readily forthcoming. Since the early 2000's that has slowly begun to change.
Back in 2004 the Museum Ludwig, Cologne, Germany mounted a retrospective of the works of Crumb entitled, "Yeah, but is it Art?" They also issued this 280 page catalog for it, bearing the same the title, with a cover drawn by Crumb featuring one of his iconic self portraits, this one showing him somewhat incongruously sitting uneasily in an easy chair by himself (though there are 2 cups of coffee present. The second must be ours!), with a large & pretentious gothic font for the title (which I read as the Artist not being able to mask his feelings on the subject), in a huge yellow bubble, with his answer to his own question in a tiny, hard to read, bubble saying, "You tell me. I don't know."
Apparently, neither the Museum Ludwig, or Crumb, seemed sure about going out on a limb to an answer to the question, though displaying his work in a show is, of course, a sizable step along that road.
"Strange to see you waiting for me
You try to block my road, yeah yeah
Try to block my road"*
This is a question I've wondered about for a long time, at least the last 14 years- When will the major Museums open their doors to Crumb? After all, is it really that far from Philip Guston's work of the same period to Crumb?
It makes me wonder if Guston knew Crumb's work and if it was an influence. Guston's late work, like "Stationary Figure," has been in Museums, (including these examples at Moma, The Met, and The Whitney), for years. A nod from one of them regarding R. Crumb would more than likely set a worldwide precedent.
Fast forward to this week. While wandering through Moma's 4th floor galleries of work from their permanent collection, I found the answer-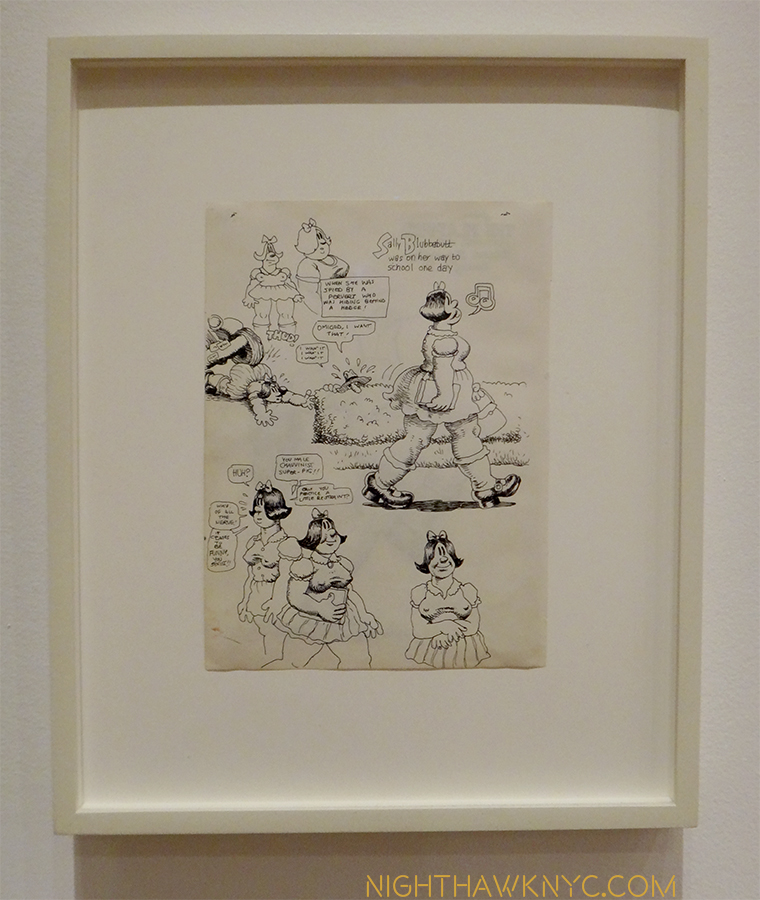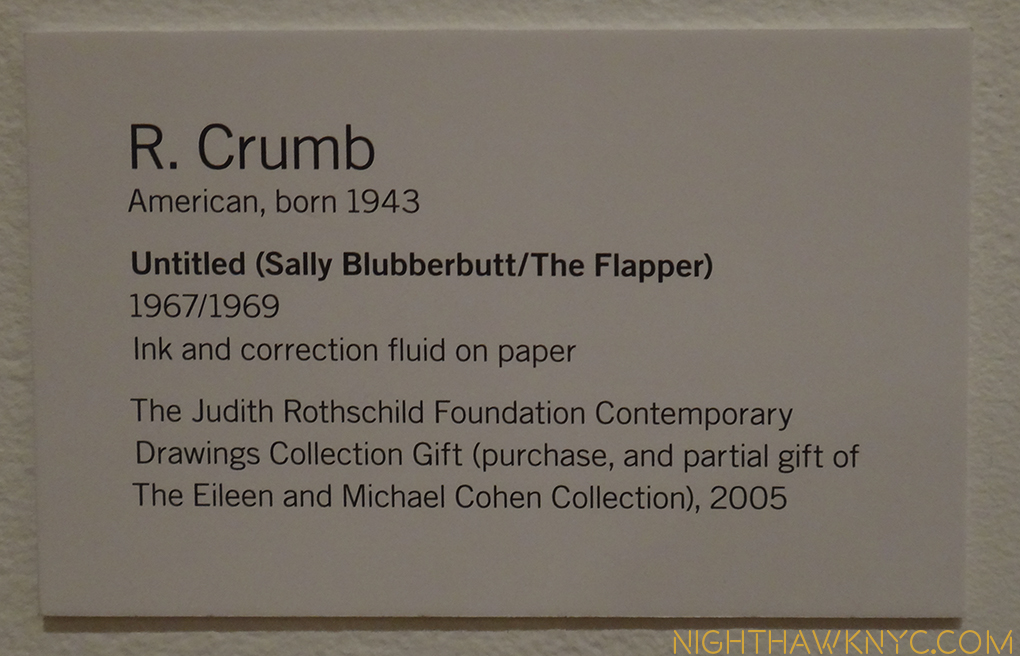 Someone at Moma sure thinks the time has come. Enough to display this Crumb drawing in their "From the Collection: 1960-69" Show, featuring highlights from their collection during the tumultuous decade on the 4th Floor, right around the corner from a display containing a Giacometti, the Sculptor who holds the record for the most expensive piece of sculpture ever sold (but that "means" nothing at all in discussing Art.) Though not one of his better known works (I wonder if it is a page from a sketchbook), it's an R. Crumb alright. (An interview, along with examples of his finished drawings may be seen here. Those are the works the Museums should buy, in my opinion.) It's actually the third MoMA show to include a work by R. Crumb.
While Crumb has been included in other shows at Museums after the Museum Ludwig show, including the "Masters of American Comics" Show at the Jewish Museum, NYC in 2007, along with numerous gallery shows at David Zwirner and elsewhere, I've been waiting for Moma, especially (and more likely), or, The Met, to display him, since they are "the gatekeepers" here in the USA.
Now that this long awaited moment has come, I only see this continuing. It's overdue, in my opinion, and a bit surprising it has taken so long given that in today's overheated world of Contemporary Art, seemingly every nook and cranny of Art World Wide is being mined. If the Museums do have an interest in acquiring and displaying Crumb, they might want to act fast. Among other things, Crumb in Moma is likely going to have an effect on his prices in the Art Market. For years, as the work of these Artists was unrecognized by major Museums, it has gone unrecognized by the majority of Art collectors and investors who buy expensive Art. Those days are ending. The Museums may actually help price themselves out of acquiring more of these works by displaying them. Talk about a vicious cycle!
The best Comic Art was one of the last bastions of underpriced Art in the market. Now? I'd be hard pressed to find another. Besides, of course, the eternally undervalued and critically under-appreciated, American Realists of the last half of the 20th Century.
Will their day ever come?
"Oh, ain't no problem
Carry no heavy load
Oh no, no
Why can't I love you, baby ?
You try to block my road"*
For now, the next time you look at a comic in a newspaper or a comic book, or read a graphic novel, it might not be the "throw away" thing it has long been.
—————————————
UPDATE- August 8,2016
I went back to Moma over the weekend and saw the Crumb, above, again. What I didn't realize the first time, because I was so surprised to see it and was busy making notes, was that RIGHT NEXT to the Crumb the very next piece on the same wall is this-
Wow. Someone is reading my mind.
It also should be noted that Mr. Guston was very into comics when he was a child, so much so that his mother presented him with a gift of attending comic school. He quickly left, not taking to the teaching. I still wonder if the advent of Underground Comics had any effect on him, and his late work.
*- Soundtrack for this Post is "Road Block" from "Cheap Thrills" by Janis Joplin & Big Brother & The Holding Company (with a classic Cover by R. Crumb, 1968). Written by Randy Meisner and Eric Kaz and published by Glasco Music.
This Post was created by Kenn Sava for nighthawknyc.com
Please send comments, thoughts, feedback or propositions to denizen at nighthawknyc.com.
Click the white box on the upper right for the archives, to search, or to subscribe.