There I was, this past Saturday, minding my own business, fresh from another visit to Degas at Moma (stay tuned), braving the crowds at Summer Stage in Central Park on a gorgeous afternoon waiting to hear what would turn out to be an absolutely incendiary performance by Kamasi Washington & The Next Step, working my way ever so slowly towards the front of the throng, over 2 and a half hours, until I was 5 from the stage, when this kid came out to do the opening act.
By himself.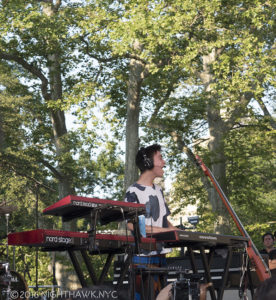 Uh oh.
I'd been thinking to myself that I felt sorry for anyone who got the opening gig slot ahead of Kamasi Washington, here in Central Park of all places. What it must feel like to be out there knowing that a mountain, this force of nature, this new movement of talent called the "West Coast Get Down" is about to fall on you, and probably obliterate every sign of you having been there. After all, when was the last time a group of very talented musicians came out of the same place at the same time? "I just got off a plane from London," he said, rocking "bedhead" hair. Oh, I know how taking that trip feels. My heart sank. Maybe I should turn around and watch for incoming bottles, like I had to do for the 6 hours of opening acts the crowd hated before The Clash at Bond's Casino back in the day. I decided to settle in and give the kid some slack. What the heck. It was such a lovely early evening.
One hour later, this kid- Jacob Collier, left me thinking that he might very well be THE most talented young musician on Earth.
"Hole on there, Nighthawk. Have you met EVERYONE on Earth, Mr. NightOwl?"
"Yes."
"How is that possible when you never leave Manhattan?"
"Because sooner or later? They all come here."
Jacob Collier is S I C K. And, not as in jet-lagged sick. Check this out-

(On this new song, "Saviour," he sings & plays everything. The video was filmed in ONE take, using 6 projectors.)
Ok. Let's start at the beginning. He's got this keyboard that's not a keyboard like any you or I have ever heard- the "Novation" he's playing in the photo, above. An invention from this guy, Ben Bloomberg, (who he introduced. He was there doing the sound), at the MIT Media Lab in Boston. As far as I could discern, it harmonizes his voice into the chords that's he's playing on it.
And wow. What chords!

(No Novation on this- just his actual voices. Not to mention SICK Melodica playing! Oh, and no use of Autotune.)
Young Mr. Collier apparently has been studying the hell out of Jazz harmony from Jelly Roll Morton up through Herbie Hancock and Joe Zawinul. He's got a bit of at the jazz classicist to him, his harmony is never "outside," or atonal. Rather, he uses extended harmonies, chords that go further than your basic triads, adding tones further and further away from the tonic, or tonal center- hence extended harmony. Musicians have long known that there is "gold in them thar harmonic hills," in the form of incredibly rich sounds. But, it's always been something you just don't hear on the radio outside of on Jazz stations. Maybe now? We will. And, he's not shy about singing EIGHT part harmony, or more(!), all with only his voice. THAT is unheard of in Jazz, or just about any other kind of music these days.
Still? I'll be the last guy to put Mr. Collier in a box. Yes, his music, and musicianship, has a lot of Jazz elements to it. It also has R&B elements (Stevie Wonder appears to be a big influence on him judging by how many Stevie classics he's covered), classical, folk and pop elements, among other things. Heck, being 21 now (18 when he was discovered by Quincy Jones, who signed him to his label and manages him now, on youtube) and covering both rock tunes and the "Flintstones" bring "pop" elements.
Ok, so we've got a guy with a keyboard who sings and harmonizes with himself. Then, he's also a terrific bassist- upright or electric, to the point that he'd  be getting cred right now if that's "all" he was. Im not comparing them as bassists, though I'll go as far as saying he's got a bit of Jaco Pastorius's swagger, and, apparently, his long fingers. I think Jaco would have liked him, and yes, I met Jaco a number of times, and heard him in person at "The Birthday Concert" among many other times over 8 years. Jacob has the ability to take has vision and realize it on whatever instrument is needed and bring his personality to it at the same time, which no hired sideman could do. He's a whiz on traditional keyboards from piano through synthesizer, with chops most keyboardists would kill for, a more than good enough drummer and percussionist, he plays some guitar, and lord knows what else. Apparently, Mr. Bloomberg has designed his stage setup, too, so that somehow there are sequencer triggers set up all over the stage so he can go from instrument to instrument, play a few bars on it, then have the sequence played back in a loop, which he then layers, live, all without , seemingly, pressing any buttons. Oh! And he's one hell of a melodica player. I mean absolutely ridiculous, as you hear, above. There are youtube videos where musicians are already transcribing his melodica solos so they can learn them.
Here he is live, which is the closest I've found to what I experienced in Central Park, shot an someone's iPhone 6S-

But? As amazing as all of that is? That's not the point.
Music is the point, and that, above all the rest is what matters. As you can hear above, he's got a completely unique approach to music. No matter how outlandish what he's doing seems, it's always done in service to the song- he's really not just showing off.
A completely unique approach?
I think so. What else does that sound like? His vocals may sound like a one-man Take 6 at times, then he'll surprise you and make a left turn at the drop of a dime. His arranging, which strikes me as one of his strongest suits, is a tiny bit like Quincy Jones (Michael Jackson-era), on steroids. At times he reminds me of Joe Zawinul of Weather Report in terms of the boundaries he pushes. At other times, like a 21st Century Swingle Singers. None of that encapsulates it, of course. He's taking what's come before and building on it. Ok, I'll try this-
Jacob Collier is a phenomenon.
Already. And? HIs first album doesn't come out until July 1. He's been racking up big numbers on youtube since he was 18, and it's easy to see why. And if all of this wasn't enough? He directs and edits some of his own videos (like the one below).
He announced during the show that he had 50 copies of his debut album with him. Of course, I scooped one up. It's funny how a number of the tunes that got my attention, and that of quite a few others around me, aren't even on it. Very unusual for an artist with 1 album almost out, and who is all of 21 to boot. I've seen many new acts that had to repeat a song if they had to do an encore cause they played everything they knew. (You can watch a live stream of it's release, hosted by Quincy Jones, here.)
I left with the sense that here is, either, an old soul, or the reincarnation of one who had already mastered all of this!

He sings & plays everything on this astounding Quincy Jones/M. Jackson cover, except for Quincy's cameo, and also filmed & edited it.
Jacob Collier is, already, a state of the Art 21st Century performer, who is on the cutting edge of so much of what it is to be a 21st Century Musician. Scouring the web since Saturday, I've come to feel that he's "better" alone. Yes, he can play with other musicians, it's not that. It's just that his thing by himself is just so unique, so strong, and so amazingly well arranged and constructed, that THAT is the best way to experience him, IMHO. It's like being in a band with your brothers- no one else has that chemistry he has with himself. Different musicians have different minds. When he plays everything himself, he knows what he wants. I don't know what the his career path will be. Whether this means he winds up being a producer, or he can continue to reinvent himself over time, who knows. It will be fascinating to watch. But, for now, this is something unprecedented in Jazz, at least- a one man band. Where he goes from here we all shall see. His album is just him, recorded in his room at home, as it's title, "In My Room," announces. Check it out.
The fact that he's being associated with Jazz is something I welcome. As I recently said, I've been hoping for a bunch of Artists to throw their hat into the ring to be "the Next One." But? Jacob Collier, as his song, "Saviour," which I quoted in the title to this Post, says, doesn't want "to be a saviour.1"
"…unless you can tell me something to change my mind," he adds later.
I'm working on it, Jacob. I'm working on it.
*-Soundtrack for this Post is "In My Room," by Jacob Collier, from the album of the same name.
Comments are off, but that doesn't mean I don't welcome them, thoughts, feedback or propositions. Please send them to denizen@nighthawknyc.com
Click the box on the upper right if you'd care to subscribe. Thanks.
This Post was created by and originally Posted on www.nighthawknyc.com.
He might be singing "your saviour." I can't tell and there are no published lyrics available. It doesn't matter. ↩