Bob Dylan's influence is incalculable. It might be a very long time before it can be fully assessed. Meditating on some aspects of it, as his 75th Birthday, (Tuesday, May 24), was approaching, I settled on one aspect of it-
Bob had a lot to do with taking New York City, and specifically Greenwich Village, where he lived and worked, to another level, after he moved here in 1961.
Yes, The Village had a long history of being a Bohemian haven before Bob, going back to the 19th Century, and more recently, the Beats and the Jazz Clubs certainly had begun to do just that, setting the stage for Bob and creating the environment he wanted to be in. Then, of course, the "English Invasion" piled on soon after. But, that was a long time ago. Many people who live here now, or have lived here over the past 50 years have done so in part because of what he did.
I decided to "honor" Bob on his 75th, Tuesday, by looking for what remains.
"I wish that for just one time you could stand inside my shoes"*
Ok, Bob. I'm gonna try.
So, I headed down Seventh Avenue on the day, looking for any signs of Bob. What I found, or rather didn't find, will make this a rather short Post.
My first stop was 161 West 4th Street, just off Sixth Avenue, where Dylan lived for 3 or so years. I actually lived a few hundred feet away for a year some years ago. It's changed a lot since even I lived here. Now, "Tic Tac Toe," an adult novelty emporium is downstairs, where, back in Bob's day, a spaghetti shop was, with a used furniture store above. Looking it over from the outside, it sure doesn't look like much else about it has changed, except the rent. I'm sure whoever is living in Bob's former apartment on the top floor in the back now isn't paying the 60.00 a month Dylan did!
From there, I went looking for some of the old clubs that Bob performed at that launched him, and which became legendary in turn. First, I walked by 116 MacDougal Street where both the "Kettle of Fish" (1st Floor) and "The Gaslight Cafe"(in the basement) were. They are long gone. At 105 MacDougal, where the "Fat Black Pussycat" was, where Dylan is reputed to have written "Blown' In The Wind," there now stands a Mexican Restaurant. (I found another place called the "Fat Black Pussycat," on West 3rd Street, across from the Blue Note Jazz Club.)
In fact, the only place left that I could find was "Cafe Wha?" on MacDougal and Minetta Lane, where Dylan first set foot on a New York Stage (and where Jimi Hendrix was discovered a few years later) on January 24, 1961.
Cafe Wha? had only opened in 1959, and it's original owner only passed away in 2014. I was there last to hear Dave Fields, and it sure didn't look to have changed a heck of a lot from what it must have looked like in '61.
I guess I shouldn't be surprised that almost all of Dylan's all haunts are now gone- It's, perhaps, more amazing Cafe Wha? is still here, 56 years later! NYC doesn't give "landmark" status to clubs, so in a City where it's quite an accomplishment to last 5 years, 56 is miraculous.
So, heading out of the Village, without having seen nary a Bob Dylan T Shirt, or anyone selling them, I came across this posted on a window-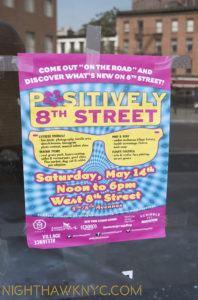 It caught my eye because it's a play on the title of Dylan's 1965 song "Positively 4th Street," that was his first single after "Like A Rolling Stone." It may, or may not have something to do with 4th Street. Positively 8th Street is a festival that celebrates the history of the Village. Bob Dylan is certainly a part of that- I'd say a large part of it. In this case, this year's festival had already taken place. Fitting.
So, while his influence is incalculable, I was left with the sense that it's moved, and moved on, like Bob himself has. I couldn't see it walking around his old stomping grounds 56 years later, because most of the physical reminders are long gone, and that is a bit sad, but it's here. It's now "below the surface." It lives on in the impact his music has had on everyone it's touched. It lives on in all of us who were impacted enough to remember what happened where and when. And, all of us who wish him a Happy 75th Birthday. And many more.
*-Soundtrack for this Post is "Positively 4th Street," by Bob Dylan and published by Bob Dylan Music Co.
Comments are off, but that doesn't mean I don't welcome them, thoughts, feedback or propositions. Please send them to denizen@nighthawknyc.com
Click the box on the upper right if you'd care to subscribe. Thanks.