"But when you're gone,
Who remembers your name?
Who keeps your flame?"*
Since I don't believe in comparing creative work or creative people, AND I believe that "awards" for "Best" whatever among the Arts (and Sports) are absurd 1, I thought I'd do a "List In No Particular Order" of 2015 Art Shows I saw (some opened in 2014) that may or may not have closed for good, but still continue to open doors in my mind, and that's more important than any award I could bestow.
"Oh can I show you what I'm proudest of?"*
"Goya: Order and Disorder" (Museum of Fine Arts, Boston, MA. No photos permitted.) AND "Goya:Los Caprichos" (National Arts Club, Gramercy Park, NYC)- Two concurrent, excellent shows, 250 miles apart, one huge, the other "small" showing two views of  Goya- one all encompassing, filling the whole lower level of the MFA, one narrowly focused on a rare, complete set of his landmark 80 print, "Los Caprichos,"(once owned by Robert Henri, who reappears below) combined to show the enduring power, importance, relevance and eternal influence of the Spanish Master. Many saw the former, far fewer saw the latter, tucked away in a dining? lecture? room on the second floor of the NAC (Behind hundreds of chairs on one of my visits!). An artist of nightmares, both surreal and all-too-real, the likes of which perhaps only Bosch can equal, who can then turn around and paint with the utmost lyricism, Goya was all about what it is to be human. Take your pick- portraits, historical pieces, landscapes, the otherworldly or the underworldly, children, tapestries, or his graphic works that hold their own with dare-I-say-Rembrandt, he'll blow your mind.
"Richard Pousette-Dart" (Pace 510 West 25th, Chelsea)- I walked in and was completely captivated by "abstract" Art the way I haven't been since the Mark Rothko Show at the "Old" Whitney in 1998, which was one of the greatest shows I've ever seen. (That's not comparing.) Don't be fooled by the apparent geometric simplicity, there is an astounding subtlety to these works that at once feel microscopically considered, often freely rendered, yet globally cohesive. Pousette-Dart had a number of styles, and this show represented one, geometric style, from the 1970's in both large oils and smaller drawings. For any of those who think that Abstract Expressionism is "easy" to do, go ahead and try creating one of these, the largest is almost 8 foot square, and then see if it has the "Presence" of Dart's. The amount of work that went into each piece belies their seemingly "simple" composition, is matched by an extraordinary primacy of order, and second only to their transcendent impact. Here, we see Richard Pousette-Dart as the great, "under known" abstract artist. While Pollock & Rothko have grown larger in stature, Pousette -Dart's name deserves to be right there with theirs. There is only one word to describe this show's effect- Magical.
"Let me tell you what I wish I'd known
When I was young and dreamed of glory
You have no control
Who lives
Who dies
Who tells your story?"*
"Richard Estes: Painting New York City" (Museum of Art & Design, NYC)- My favorite contemporary artist, and one of the greatest living realists, FINALLY gets an NYC Museum show, and it was worth the wait. A virtual time capsule of NYC from the mid 1960's to 2015's astounding "Corner Cafe," showing the 83 year old Master is still at the height of his considerable power. Oh…Do NOT call him a "photorealist" in my presence! Estes shows us the world we live in as we do not see it, (more on this soon) and so follows in the footsteps of Edward Hopper and Charles Sheeler in advancing American realism while, perhaps, being the first to include the abstraction that is also a part of the real world. A misunderstood painter, in my eyes, who is only just beginning to be really seen, finally.
"I try to make sense of your thousands of pages of writings
You really do write like you're running out of time."*
"Picasso: Sculpture" (MoMA)- If he had never done anything besides paint, Picasso would be considered among the all time Masters. But, noooooooooooo… Picasso was, perhaps, the most unique genius in (known) art history in that his genius was among the most restless. He almost never stopped creating, and he never stopped seeking new outlets for his creative vision. Consider- PICASSO HAD NO TRAINING AS A SCULPTOR! NONE. Yet, that didn't stop him from becoming, perhaps, THE most revolutionary sculptor up to his time. There is so much great work to see in this show, I don't even know where to start talking about it. "Picasso: Sculpture" shows us the naked face of endlessly creative genius the like the world has never seen. I'll sum it up by saying virtually all of it is wonderfully selected, though some of the Cubist works here don't stand up to his paintings, in my opinion, and wonder- When will we see his like, again? The "other" takeaway, for me, is- Oh…MoMA. I miss you. About as much as I miss your "old" building.
"America Is Hard To See" (Whitney Museum)- I'm saving my thoughts on the "New Whitney" Building, but the opening show in the new place was a wonderful "Welcome Back" to one of the first 3 of NYC"s Big Four Museums and a reminder of it's world class (and first anywhere) collection of American Art. My personal highlight? The first floor gallery featuring a selection of Hopper Drawings done at the Whitney Studio which predated the Museum, and the absolutely mesmerizing portrait of Museum founder, the indomitable Mrs. Gertrude V. Whitney (also an overlooked sculptor) that looked out at Gansevoort Street, and for my money? SHOULD HAVE BEEN LEFT RIGHT THERE- PERMANENTLY! It wasn't.
"And I'm still not trough I ask myself,
what would you do if you had more time
The Lord, in his kindness
He gives me what you always wanted
He gives me more time."*
I end this section honoring two endlessly creative American "painters," featured in very very good shows. Like Richard Estes, these two artists also put that "more" time of a long life to superb use. Yes, despite evidence to the contrary, they both consider themselves to be painters. To me, the "lessons" of their lives, how they were able to survive following their star in this country for so long, may prove to be as important as their considerable artistic legacies.
"Robert Rauschenberg- Anagrams, Arcadian Retreats, Anagrams:A Pun" (Pace 534 West 25th, Chelsea)- Presaging Photoshop, the late, great Mr. Rauchenberg continues to speak to our times though he, unfortunately, left us almost 7 years ago. Light years ahead of his times, throughout his life, "Anagrams…," a show of Mr. Rauschenberg's final development, shows that once again, his work will look "contemporary" for years to come, and more amazingly, I think it will be as relevant as what anyone else is doing at the moment! As I just said, he represents something of an American miracle- an artist who was able to spend virtually his entire life creating EXACTLY what he wanted to, answering to no one but himself. That sure must seem miraculous to today's American artists. Interestingly, like Mr. Estes, the works here are based on Mr. Rauschenberg's own photography, to very different results. Unlike Mr. Estes, Mr. Rauschenberg's are directly transferred to the piece, though with such skill and subtlety they have the effect of melting into the others they're surrounded by. A surprisingly fresh, visually rich, often beautiful show who's spell will call me a few more times before it ends on January 16. And then, I will miss it, but it will have changed the way I see the world, like Richard Estes has.
"Frank Stella" (Whitney)- An art mover's nightmare of a show, the Artist's helpful hand notated directional markings seen on some of the pieces notwithstanding, it must have been hard for Mr Stella, himself, to narrow his 50-some year career down to one floor at the New Whitney, handsomely displayed in the still-new space. With only one Moby Dick piece in sight, the take away for me is that here is a Triumphant overview of another rare American artist who continues to explore and evolve, fickle times and the "harpoons" of even more fickle critics & collectors be damned. Mr. Stella has devoted his career to the eternal pursuit of finding new possibilities, "new spacial complexities" 2, for the Art Form of painting. Some of these sure look like sculpture, but I'll bow to what he says on one of the show's signs- "Q- You still call these paintings? A- Yes. They are, in fact, paintings." Remarkably, as he closes in on 80 this May 12, Mr. Stella continues to "start over," as Richard Meier says on the audio guide, eternally following his muse, breaking painting out of 2 dimensions, to lord-only-knows-where-next. In this show's case? The Journey IS The Destination. Mr. Stella strikes me as a master conceptualist with an endless font of making the unlikely, and especially the unthought-of, real. Forget this show's afterthought of a catalog, for me, his value, "message" and influence lie in the sheer physical experience of his work- they simply must be seen, and often, walked around like sculpture to be fully appreciated. Who else "paints" like this? If you go, and you should, check out the great quotes from Mr. Stella on the wall signage- "What you see is what you see." And then some. What I saw was a show to fire your creativity, and inspire you to see new possibilities in anything, if there ever was one. You still have a few days left to see it before it closes after February 7. Then, the art movers get to pack it up and move it out. I would pay to watch that.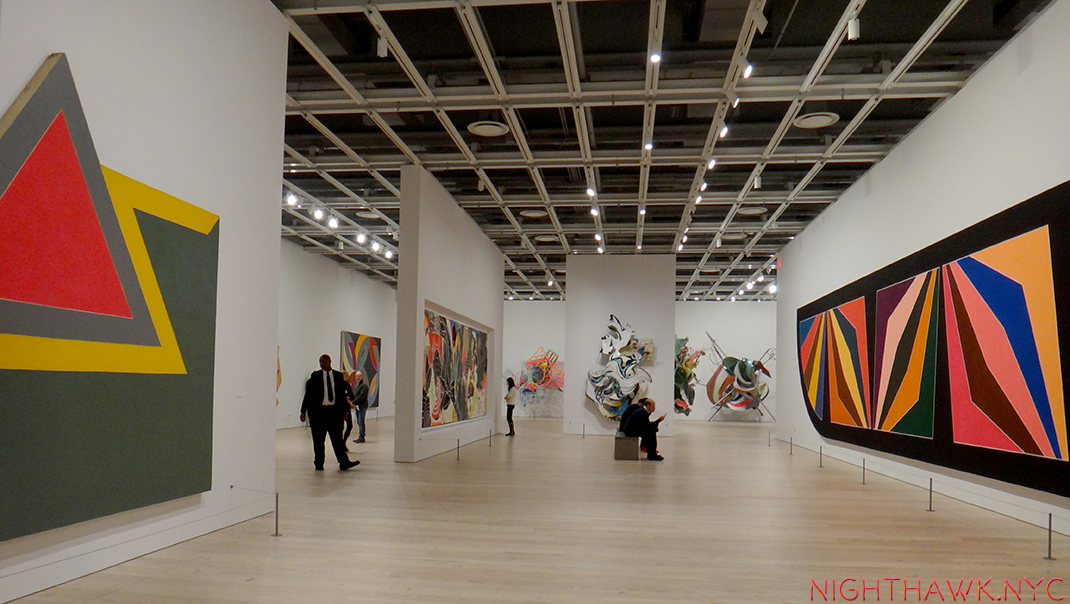 And lest I forget…
Cubism (The Met No photos permitted.)- TM is on a mission to shore up it's Modern & Contemporary Art holdings, as we will soon see at The Met, Breuer, but this show featuring works of a promised gift goes a very long way to solidifying TM's Cubists holdings, and then some. So many strong works by the Masters of Cubism, Picasso, Braque, the underrated Juan Gris, and Leger abound, they made me wonder where TM is going to install them all when they finally get them!
Madame Cezanne (TM No photos permitted.)- Portraits are not the first thing most think of when they think of Cezanne. Many think of his groundbreaking landscapes and genius with color, but this show of his, no doubt long-suffering wife, says as much about this under known muse as it does about Cezanne. The hours she spent posing for him reminds me of "The Man in The Blue Shirt," by Martin Gayford about sitting for Lucian Freud. The show is a striking look at another side of this master of impressionism, and gives us rare opportunities to see 4 versions of a painting reunited, and Cezanne's actual sketchbooks. A rare treat for the lover of Impressionism, portraiture and great Art.
"China Through The Looking Glass" (TM)- Except for Picasso: Sculpture and Goya's Los Caprichos, the above shows are painting shows, my true love, but CTTLG is in a category all it's own. ANY show that can get TM to stay open till Midnight has to make the Nighthawk's list. After setting the bar high with "Alexander McQueen: Savage Beauty," TM's Costume Institute topped themselves with a spectacle that the 800,000 who saw it will remember almost as long, and which will prove quite a challenge for 2016's "manus x machina," or MxM, as I'm calling it to equal, let alone top. I predicted 1 Million will attend it, so GO EARLY (or don't say I didn't warn you) & Stay tuned!
"Francis Bacon- Late Paintings" – (Gagosian No photos permitted.) – with one work, a triptych selling for 142 million, I can't fathom how much 28 are worth, but here was a chance to see that many in one show, focused on the seemingly contemplative, other-worldly "late" Bacon,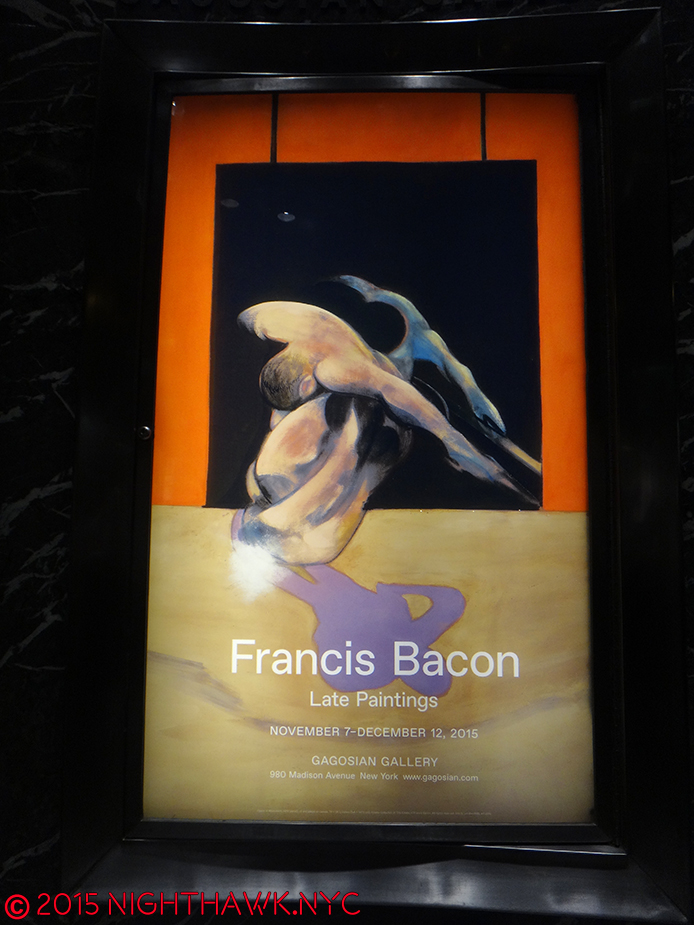 especially after seeing the following (Rembrandt show) on the same day, which brought to mind subtle, fascinating convergences- self-portraits, multiple views, or states, for Rembrandt, diptychs & triptychs for Bacon, among them.
"Rembrandt's Changing Impressions" (Columbia U.)- In lieu of the "big one" I missed (see below), this was a closer-to-home chance to see 50 or so prints by the Master and a rare chance to see various "states" (versions) of works side by side. A bit light on the most well known of Rembrandt's etchings, but very worth 4 visits none the less.
"Chuck Close Recent Paintings" (Pace 534, Chelsea)- I met Mr. Close, briefly, but in spite of the fact that he is one of the greatest portraitists of the 2nd half of the 20th Century+, I know he won't remember my face. He has Prosopagnosia. He's ALSO paralyzed and in a wheel chair. I never cease to be absolutely astounded at what he achieves and what new ground he breaks. Already a Master before his brain aneurysm, which would have stopped 99.5% of anyone not named Chuck Close, he's gone on to create ever new works that continue his life long exploration of his famous "grid technique." These works add even new elements- new palettes, a new approach to focus and depth of field, and more.
"Linda & Mary McCartney "(Gagosian Books)- If they had taken down all the title cards, removed the iconic shots among Linda's, and you walked in without knowing which work was by who- Linda McCartney, or her and Paul's daughter, Mary, you'd never know. That's how amazingly symbiotic the eyes of the two photographers are. They see as one. Walking out, and I say this with nothing but respect, it really felt like Linda had never passed away. That her work continues. I've never seen anything quite like it.
"George Caleb Bingham" (TM)- The year's "sleeper" pick. I don't know if he ever met Mark Twain, but if Mr. T. ever wanted an artist to illustrate "Huck" or "Tom Sawyer?" G.C.B. would get my vote. His work captured what it was to live on the River the way only Twain, himself, has, and makes a contribution to laying the ground work towards defining a truly "American" style of painting, and by the Mid-Nineteenth Century? It was about time! TM's show reveals him to be something of a predecessor for that other great American 19th C. portraitist, Thomas Eakins, but with a style and a power of his own that still holds up.
"Araki" (Anton Kern, NYC)- He lost his wife…he gets prostate cancer…he says he no longer has sex…Nothing stops the indefatigable, legendary Araki. Don't let the "casual" taping of the photos to the wall fool you- I found this show striking, poignant, meditative and moving. The images flowed one to the next, sometimes in harmony, sometimes in dissonance, but all of them speak with that sense that only Araki has. Some will say he's a misogynist. I'm not a woman but I disagree. I see beauty and poetry in his shots of women. Reading some of the press materials on hand, I was struck by his comment that he had sex with most of his models. I couldn't help wonder- Does that include Bjork? Live long, and much health, Araki.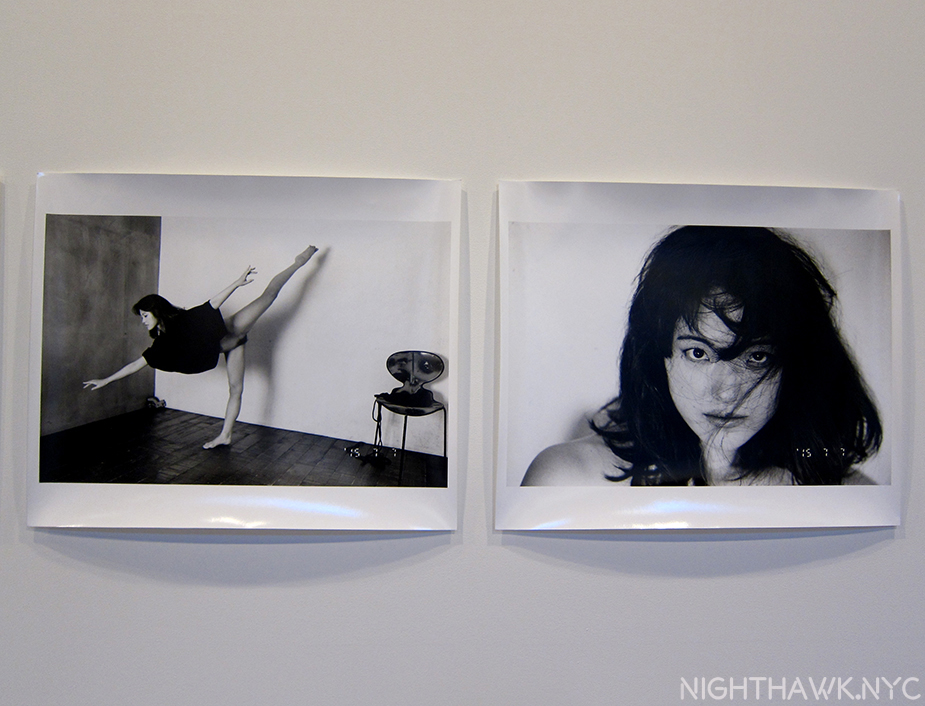 Also lingering in my mind, tormenting me with what I missed, are the ones that got away-
"Late Rembrandt" (Rikjsmuseum, Amsterdam)- I agonized about going. For months. Like I agonize about Frank Gehry at LACMA right now! (Hello, Sponsorship?)
"Bjork" (Moma)- Sold out when I went. Bad reviews be damned, I love Bjork.
Overall, it was a good, but not great year. Still, these 17 shows had real staying power and lasting influence. I'm grateful that in NYC, we still have so much to see. As I said a few posts back, I live in mortal fear of missing a great show- Like all those I missed this year because I never knew about them, and still don't.
As I look back on 2015, the Idea of great Art is what lingers in the mind, inspires, even instructs. The experience, talent and creativity of a great Artist speaks to the highest & best of mankind, in ways the rest of us can, perhaps, relate to, learn from, and even aspire to. As Mr. Pousette-Dart cosmically said-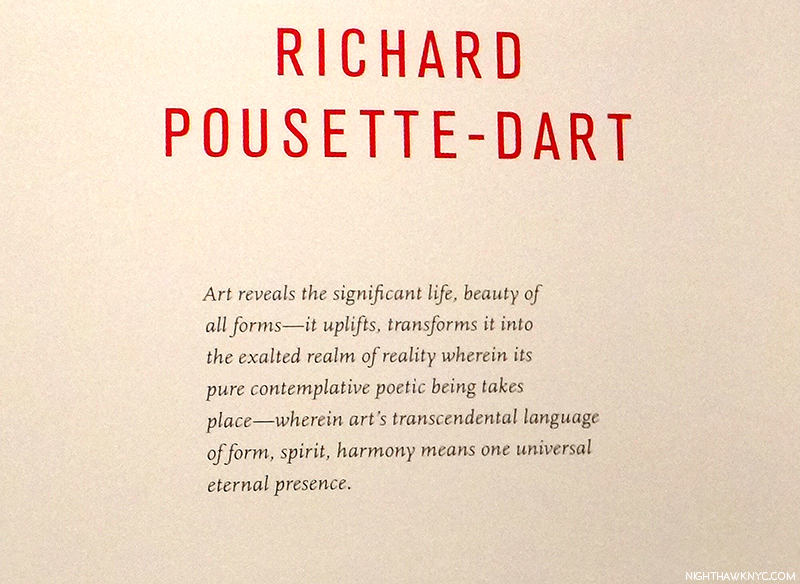 In these times of so much senseless hatred, violence and the worst of human kind on display, we need this more than ever.
*Soundtrack for this post is "Who Lives, Who Dies, Who Tells  Your Story?" from the 2015 album I listened to the most, "Hamilton– Original Broadway Cast Recording," by Lin-Manuel Miranda.
Please send comments, thoughts, feedback or propositions to denizen at nighthawknyc.com.
Click the white box on the upper right, for the archives, to search, or to subscribe.
This Post was created by Kenn Sava for www.nighthawknyc.com
Remember- Charlie Chaplin, Hitchcock, Fellini, Orson Welles, Akira Kurosawa, Ingmar Bergman or Stanley Kubrick, among others, never won an Oscar for Best Director! I rest my case. ↩
as is said on the audio tour, #508 ↩