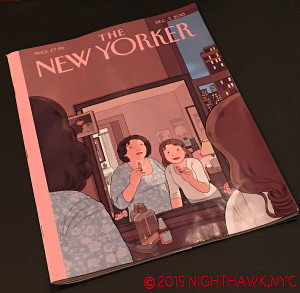 "Little Triggers you pull with your tongue"*
Chris Ware, the brilliant Graphic Novelist who gave us "Jimmy Corrigan: The Smartest Kid On Earth," in 2000, and the more recent "Building Stories," in 2013, is someone who always seemed to me to be fascinated by the history of graphic design and artists, but wary of technology and the prospects of "advancing" a paper-bound art through the use of cutting edge tech. That seemed to have softened in September, 2014 when his next book, "The Following Saturday" began appearing in installments ONLINE at The Guardian. I was surprised, though Ware has history with The Guardian, who famously gave him it's best First Book Award in 2001 for Jimmy C, the first time the award had ever gone to a graphic novel.
This week, however, he has broken new entirely ground by taking his poignant drawing for this week's New Yorker (above) and turing it into an animated short! It's the first animated work of his I've seen (though he refers to 2 cartoons he did in 2007-9 in the accompanying column he wrote, which also may be a first). And? With it he steps right into some pretty deep water. The result is something I recommend you check out here, in full screen.
So, be careful what you say to those you love!
*-Soundtrack for this post is "Little Triggers" by Elvis Costello and published by Universal Music Publishing. It appears on his early classic album, "This Year's Model," also highly recommended.
This Post was created by Kenn Sava for nighthawknyc.com
Please send comments, thoughts, feedback or propositions to denizen at nighthawknyc.com.
Click the white box on the upper right for the archives, to search, or to subscribe.