11 days after being here for the final day of the "Chuck Close: Recent Works," I returned to Pace's 534 West 25th Street Gallery to see "Robert Rauschenberg: Anagrams, Arcadian Retreats, Anagrams (A Pun)," on view until January 16, 2016. Up a few steps to the back office area where the show continues, a short video of Rauschenberg at work in on view. As the camera looks down from slightly above, I noticed that surrounding him all over his studio were numerous works consisting of seemingly chaotic collages of images. I couldn't help wondering about the effect on a visitor's brain of spending 8 hours in that studio, and what it would  feel like to then walk outside. I wondered what they said about the images playing inside of Rauschenberg's mind all the time. Day in. Day out, for the 82 years he lived. It might be why there's so much to see in even one of his works. This new show makes clear that it may be a long time yet until everything that brain, and he, created in his professional life from the 1950's until he passed in 2008 is seen, fully appreciated and assimilated.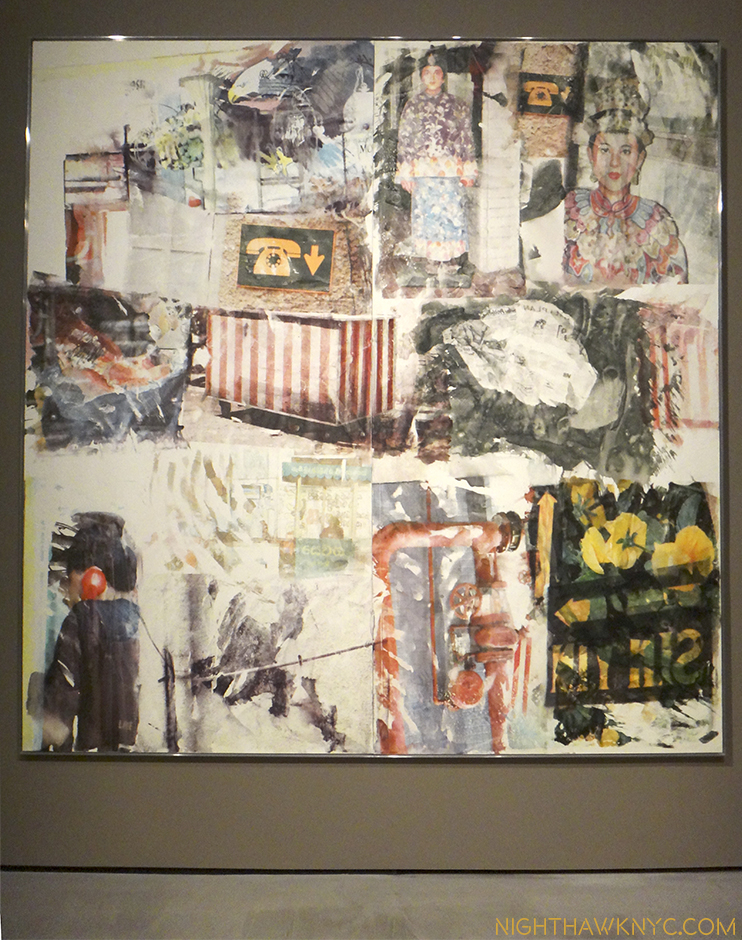 These works are dated 1996 and 97. Visually, his work presaged the visual chaos of the internet age, and the graphic print style of David Carson and others. Seen in 2015 it fits right in with the everyday chaos of NYC, both on the physical level, where pedestrians have to face a never ending life, death or injury battle with bikes, cars, buses, trucks and lord knows whatever else, simply to get from point A to point B, while being bombarded with every square inch plastered with ads, images or graffiti on the visual level.
The modern world makes me try to make sense out of it's visual chaos- like Rauschenberg did so masterfully.
"Anagrams, Arcadian Retreats, Anagrams (A Pun)" is a bit different from any Rauschenberg show I've yet seen. It's concise yet catholic, coherent and sharply focused on these three series of works, which share working methods, making it very hard to tell which work is from which series. As such, it's a rare opportunity to see a selection of late works. Pace's release states the images are from Rauschenberg's own photos, which continues a trend in recent shows of artists using, or basing their work on their own photographs (Richard Estes, Chuck Close). Rauschenberg appears to have been at the forefront of image manipulation, made possible by software like Photoshop, while adding "painterly elements." Regarding exactly what these pieces are and how they were made, Pace's press release says- to create these works, "he developed and perfected a powerful new technique combing dye transfer with novel supports including plaster, large-scale paper and polylaminate panels…The process produced an aqueous and fluid appearance, blurring the crisp edges of his photographs…The inkjet dye process also liberated Rauschenberg from the mechanical production of printing screens, allowing him to produce sheets exclusively from his own photography on an in-studio printer. In addition to a more painterly effect, these works reflect a more nimble and freer approach to image-making than earlier works which were bound by the limitations of the mechanical process."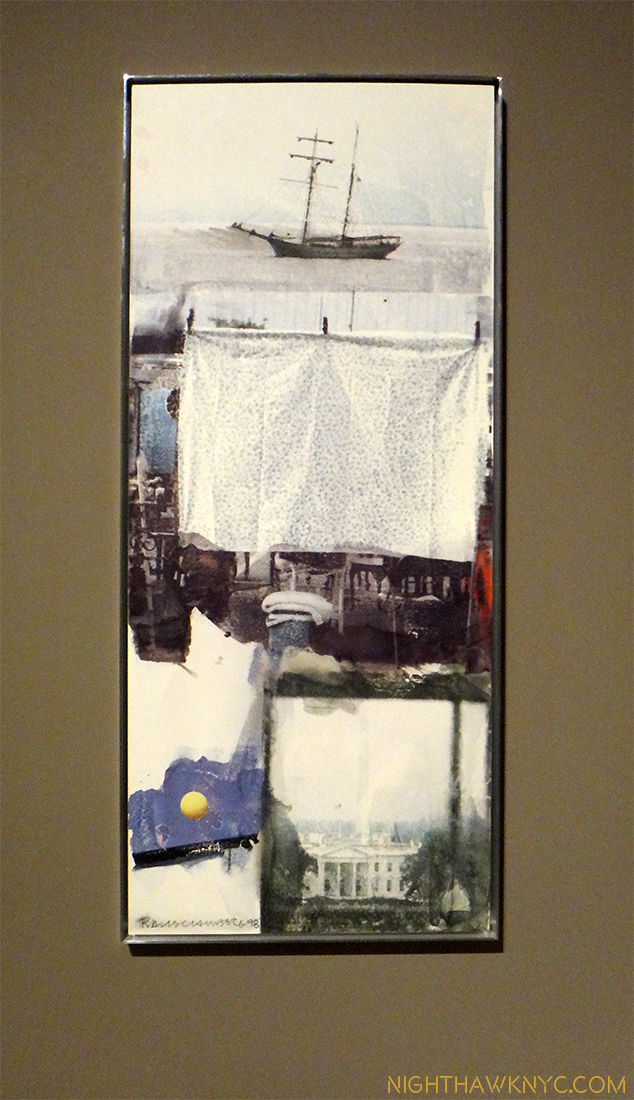 It's tempting to "read into" the resulting images, some of which are repeated verbatim in other works, and take them as a visual language, to be deciphered for "messages," even hidden meanings. That will take a lot of looking to compile. Though "Anagram" is a word about words, I don't think I'll be taking it that literally. I prefer to let the images speak, and this show is an orgy for the eye.
The works range from very large to large and a few of medium size. Two, including the largest, (one, I felt to be the most impactful piece in the show), are owned by the Whitney. Most of the others are not titled, detailed or described. Many feature images from different cultures around the world from the Sphinx and the Pyramids to traditional costumes, apparently from trips he had taken shortly before, which are juxtaposed with images from the western world, like construction equipment, firefighters, store fronts, junked cars, bicycles and soda bottles. Despite being combined, layered, even processed, the results don't look like images produced in Photoshop. They look more like paintings, which I find somewhat remarkable, probably because I am so used to seeing Photoshopped Photographs. While he anticipated digital image processing and manipulation in works gong back to the late 1950's, he continued doing things entirely his own way, and only selectively using technology when it suited his aims.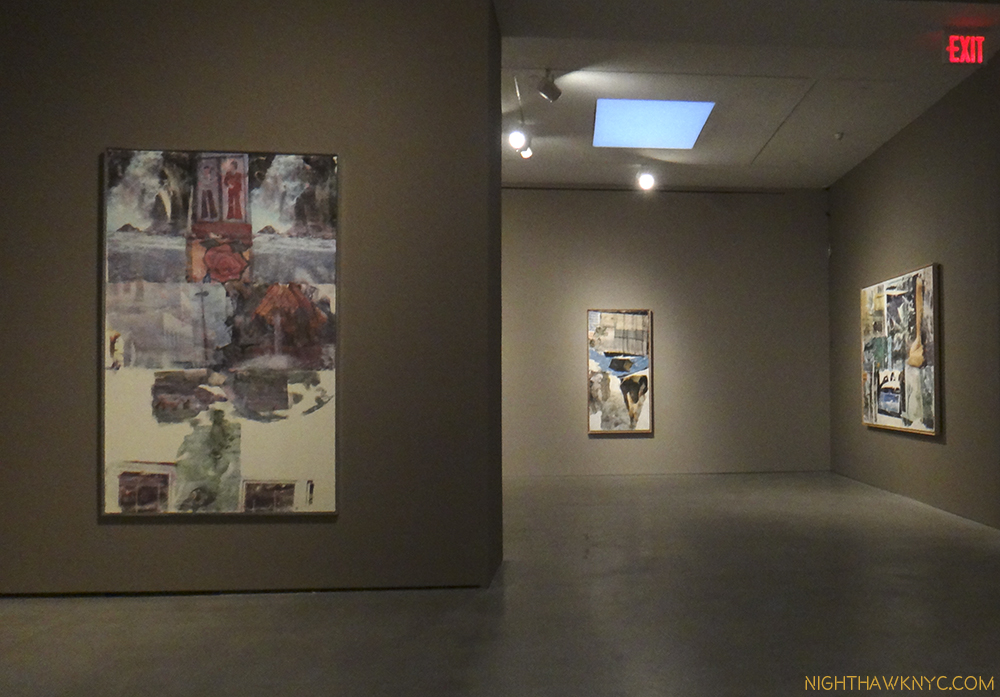 I previously saw some works from these series in the 1977 Guggenheim Rauschenberg Retrospective, but these were new to me. Seeing only works from these series brought home how wonderful they are. They're different from what he had done earlier in his career, yet they have that undeniable "Rauschenberg" feel. In spite of being Photo based, they retain a "painterly" look, which I think is remarkable, and one of the things that sets his work apart from all those doing these types of works today. For me, Rauschenberg is kind of an American Picasso of the 2nd half of the 20th Century- his creativity and inventiveness knew no bounds. Like Picasso, he never stopped innovating and trying new things and techniques. Even 7 years after his passing, we continue to discover new facets of this work, which seems as fresh and contemporary as anything else around today. That will, no doubt, continue at the first full scale retrospective of his work since the Guggenheim's 1997 blockbuster to be held next year at the Tate Modern, London.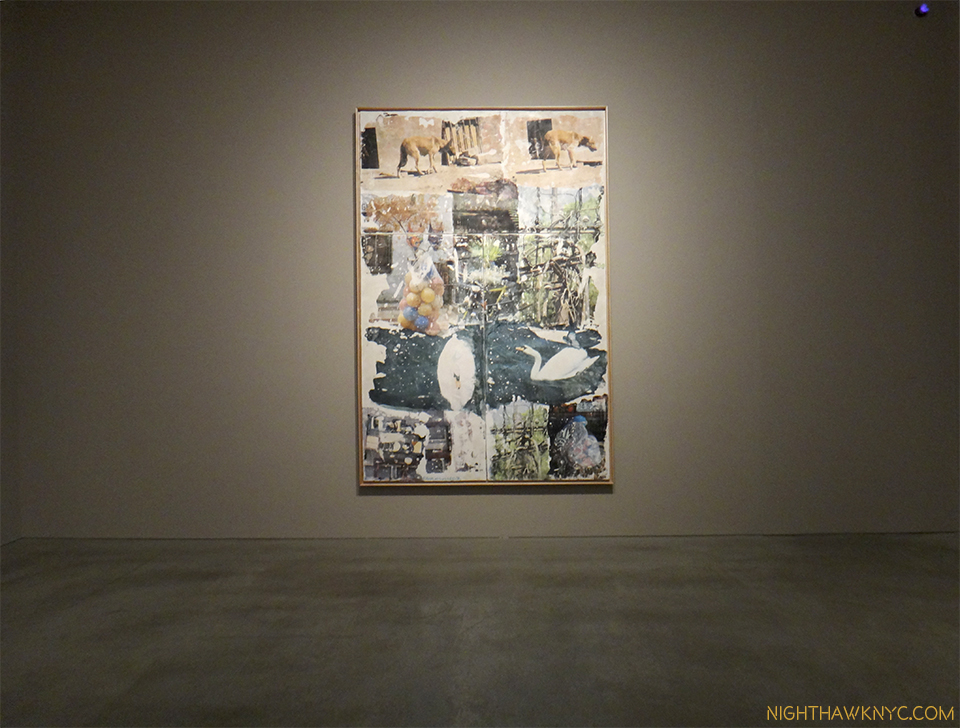 These are wonderful works that reward repeated looks from a period of the Artist's career that strikes me as being under appreciated. They seem so of the moment, it's hard to think they're going on 20 years old. In that sense, like their creator, they are ahead of their time, even now. I'm continuing to try and get the modern world to look like a Rauschenberg to me, to make that kind of sense, possibly even find the "Art" in it…that is when I'm not dodging bikes, cars, and the rest to actually feel safe enough in it to look around. That danger is what's missing in these Rauschenbergs. Probably because he seems to be focused on the bigger picture, the dangers of the modern world to ancient cultures and ancient creatures. Including man.
On a bigger scale, like that bike I don't see coming the wrong way on a one way street, the modern world is obliterating all that came before.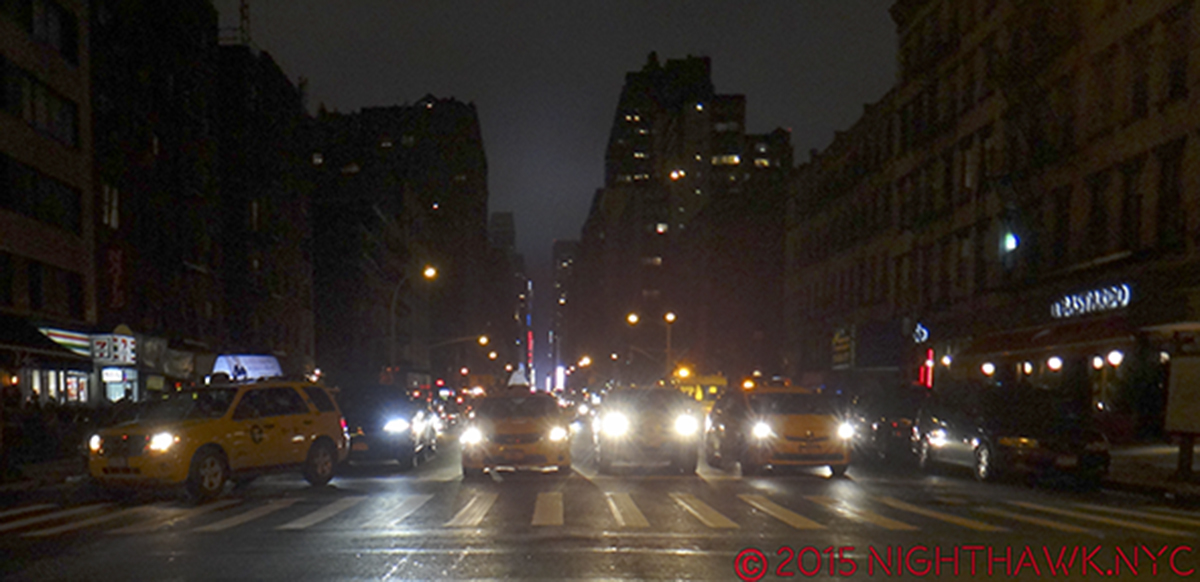 *-Soundtrack for this post is "Crosstown Traffic," by Jimi Hendrix.
Please send comments, thoughts, feedback or propositions to denizen at nighthawknyc.com.
Click the white box on the upper right, for the archives, to search, or to subscribe.
This Post was created by Kenn Sava for www.nighthawknyc.com